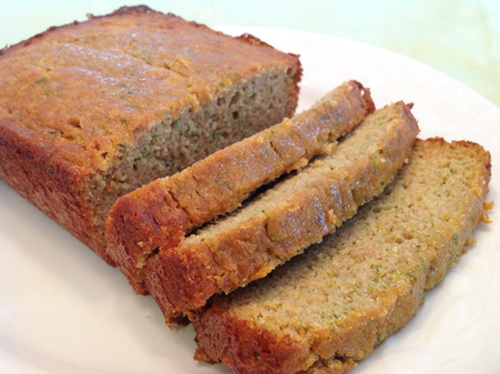 Gluten Free Zucchini Bread
photo by recipe author
Servings: 12
Preparation Time: 1 hour
Preheat oven to 350 °F
Grease a glass loaf pan or muffin liners. In a small bowl, combine both flours, cinnamon, baking soda, and salt.
In a large bowl, using a whisk or a hand mixer, combine eggs, vanilla, honey, melted butter/ghee, and zucchini.
Add the dry mixture to the wet ingredients. Mix just until smooth. Do not over mix, it will start to separate. Pour batter into greased pan, or muffin liners.
Bake loaf for 60-65 minutes, or until toothpick comes out clean. Alternately, bake muffins for 30-35 minutes.
Allow to cool before serving. Stores well in fridge.
*You can grind your own almond flour by placing whole almonds in a blender/food processer and blending until you get a fine meal.
Jenny from Hendersonville, TN won $50 for this recipe and photo! Submit your coconut recipes and photos!
Published on May 8, 2015