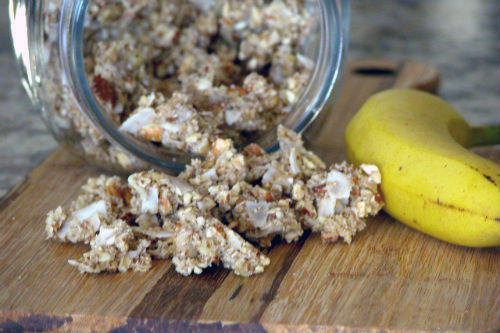 Grain Free Banana Nut Granola
photo by recipe author
2 cups raw almonds
1 1/2 cups raw walnuts
1/2 cup psyllium husk (could replace with more almond flour)
1 cup almond flour*
1 cup coconut chips, flakes or shreds
1/2 cup vanilla protein powder
dash of sea salt
3/4 cup overripe bananas, mashed or pureed (about 2 small)
1/8 cup roasted almond butter
3/4 cup honey
1 teaspoon vanilla extract
1. In a food processor or hand chopped, grind the nuts down to desired chunkiness. I prefer smaller pieces.
2. In a large bowl, combine the nuts, husk, flour, coconut, protein powder and salt.
3. In a small bowl, combine bananas, almond butter, vanilla and honey.
4. Pour the banana mixture over the nut mixture and stir until mixture is coated.
5. Place mixture on dehydrator sheets and place in dehydrator at 115 degrees overnight or until desired crunchiness.
6. For oven method, place the mixture in a thin layer on parchment lined baking sheets. Bake at 175 for 4 hours. Turn the oven off ad let granola sit for another 4 hours or overnight to help it dry out. Depending on desired crunchiness, you may cook it less.
*You can grind your own almond flour by placing whole almonds in a blender/food processor and blending until you get a fine meal.
Variations:
Replace some of the nuts for unsalted peanuts and the almond butter for peanut butter.
Recipe submitted by Kate, Highlands Ranch, CO
Published on April 23, 2012