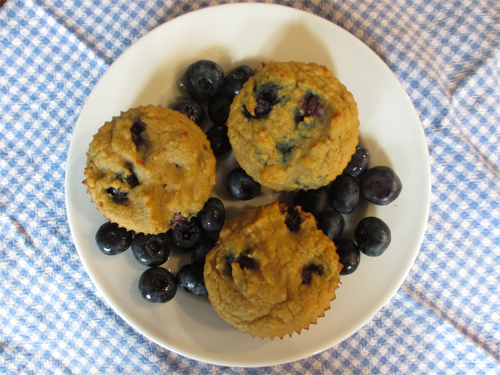 Grain Free Blueberry Lemon Muffins Recipe
photo by recipe author
Servings: 24
Preparation Time: 20 minutes
In a small bowl, combine coconut flour, salt and baking soda.
If coconut oil and honey are not liquid, warm in a small saucepan over lowest heat to liquefy.
In a large bowl beat eggs well with an electric mixer. Then add honey, coconut oil, applesauce, lemon rind and juice, and vanilla and blend well.
Mix dry ingredients into wet. Let batter sit for a couple minutes while the coconut flour absorbs.
Gently fold in blueberries.
Place batter into two paper lined 12 cup muffin pans.
Bake at 350 degrees °F for about 18 minutes or until a toothpick comes out clean (well, without batter, that is… it may have a juicy blueberry stain!)
Cool and serve.
Recipe submitted by Emily, Glen Ellyn, IL
Published on August 30, 2013