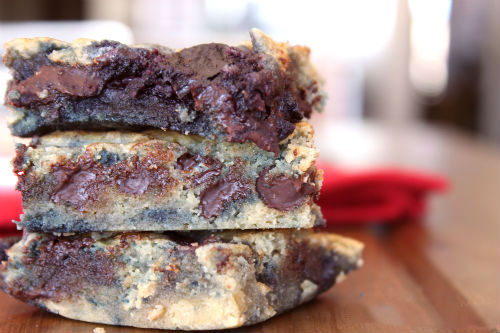 Grain Free Chocolate Cherry Blondies Recipe photo
photo by recipe author
Servings: 8
Preparation Time: 10
Preheat oven to 350 degrees F.
Place the softened butter/oil and sugar in a mixing bowl and cream with a hand mixer or in a stand up mixer until fluffy. Add the egg and vanilla and continue to blend.
In a mixing bowl combine the flour, soda and salt. Slowly add the flour mixture to the wet mixture as you continue to beat until well combined.
Fold in the chocolate chips and lastly, fold in the cherries.
Bake for about 25 minutes until slightly brown.
Let cool for 30 minutes before cutting into them (I prefer these out of the refrigerator cold).
**It is almost impossible to find fresh cherries this time of year, so frozen is what you will use. They tend to be very dark in color and that is why this looks like a blueberry blondie. It is best to keep them frozen until you have added the chocolate chips so they do not melt and bleed into the dough.
Recipe submitted by Kate, Highlands Ranch, CO
Published on February 21, 2013