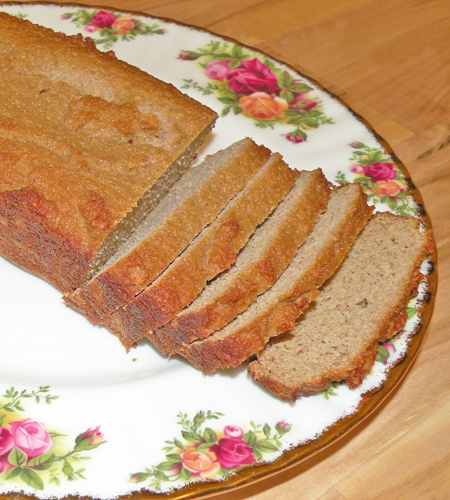 Grain Free Coconut Cinnamon Bread
photo by recipe author
Servings: 10
Preparation Time: 12 minutes
1/2 cup coconut flour
1/2 teaspoon baking soda
1/2 teaspoon baking powder
1 teaspoon cinnamon
1/8 teaspoon salt
2 teaspoons honey
3 pastured eggs
1 teaspoon vinegar
1/3 cup pure sour cream or coconut milk*
3 tablespoons coconut oil
2 tablespoons water
Preheat oven to 350° F.
Oil loaf pan and line the bottom of the pan with parchment paper. Mix dry ingredients with whisk until well blended. Add remaining ingredients and combine well. Taste for sweetness and adjust if needed. Let stand 3 minutes and then blend again.
Spread batter into prepared 8″ x 2″ x 2 1/2″ loaf pan. Bake for 25-30 minutes or until toothpick inserted into the center comes out clean. Cool on wire rack.
Enjoy sliced and warm with grass-fed butter or coconut oil. Keep stored in refrigerator.
*For the freshest coconut milk make homemade coconut milk. (See video at this link.)
Sharla from Boise, ID won $50 for this recipe and photo! Submit your coconut recipes and photos here! 
Published on March 16, 2016