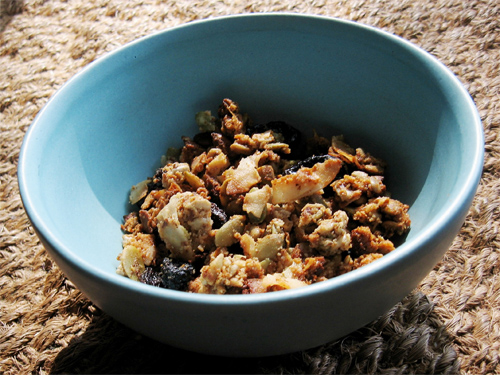 Grain Free Coconut Granola
photo by recipe author
Servings: 12
Preheat oven to 350 degrees ºF.
Combine almond flour, salt and baking soda in a bowl. In a larger bowl mix coconut oil, honey and vanilla. Stir dry mixed ingredients into wet until combined. Stir in coconut chips, pumpkin seeds, sunflower seeds, nuts and raisins.
Grease a 9x 13 metal pan with coconut oil. Spread dough evenly, separating slightly. Sprinkle with cinnamon. Bake in preheated oven for 10-12 minutes, checking after 5 minutes and turning pieces over. Bake until lightly browned; don't overcook.
Cool. Store in a tightly sealed container for a week. Can be kept longer in the refrigerator.
*You can grind your own almond flour by placing whole almonds in a blender/food processor and blending until you get a fine meal.
Tricia from Florissant, MO just won $50 for this recipe and photo!
Submit yours
here.
Published on June 30, 2014