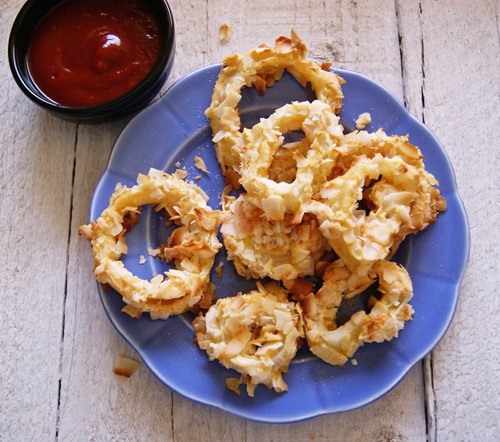 Grain Free Coconut Onion Rings
photo by recipe author
Servings: 4
Preparation Time:  15 minutes
Preheat the oven to 375 degrees ºF. Separate the onion slices into rings, saving the smaller, internal rounds for another use.
Place the coconut cream concentrate, eggs, water, salt, and smoked paprika in the blender and blend until smooth. Pour the batter in a shallow dish. Spread the flaked coconut in another shallow dish.
Oil a cookie sheet with coconut oil. Dip each onion ring into the coconut butter mixture to lightly coat, and then into the flaked coconut. Place in a single layer on the cookie sheet. When all of the onion rings are coated, bake for 15-20 minutes, or until the coconut is lightly browned. Sprinkle on additional salt, if desired. Serve hot.
Angela from Longmont, CO just won $50 for this recipe and photo! Submit yours here.
Published on February 28, 2015