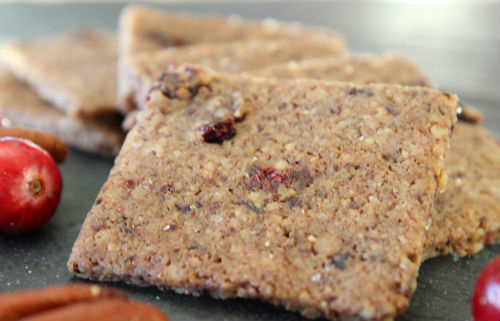 Grain Free Cranberry Pecan Crackers Recipe
photo by recipe author
Servings: 8-10
Preparation Time: 15 minutes
Dried Cranberries:
Crackers:
Cranberries:
Preheat oven to 250 degrees ºF.
Combine cranberries, coconut oil and sweetener in a bowl. Pour onto a parchment lined cookie sheet and bake for 2-2 1/2 hours. Remove from heat once the majority of berries look dried, set aside to cool.
Crackers:
Preheat oven to 350 degrees ºF.
Place the pecans and cranberries in a food processor and combine until pecans look like coarse sand. Add the egg, butter/oil, sweetener and salt to the mixture and pulse until combined and dough forms.
Place the dough between two pieces of parchment paper and roll out to about 1/8 of an inch thick.
Using a pizza cutter or sharp knife, cut crackers into desired size.
Bake for 10-12 minutes or until lightly browned. Thinner crackers will cook faster and you may need to remove outer edge crackers before you remove the inner crackers.
Let cool to crisp up and store in an airtight container. I love using glass jars for my snacks!
Quick notes
*Use more for salty crackers. I sprinkled the top of rolled out dough will a tiny bit more salt
I did not want to use store bought dried cranberries, they have added sunflower oil and white sugar. You can certainly substitute store bought, but you will probably only need 1/2 cup or less and leave out the sweetener all together. These crackers will definitely turn out to be a sweeter version!!
You can use a dehydrator to dry out the cranberries. I chose the oven method since many people do not have a dehydrator.
Recipe submitted by Kate, Highlands Ranch, CO
Published on November 20, 2013