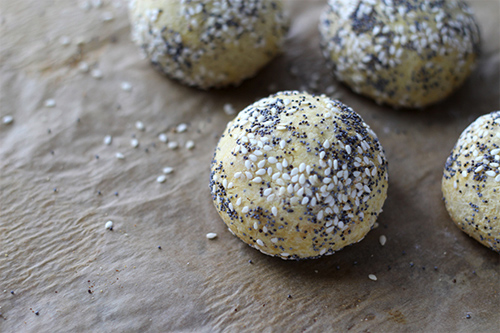 Grain Free Everything Dinner Rolls
photo by recipe author
Servings: 8
Preparation Time: 10 minutes
Preheat oven to 350 degrees ºF.
Combine dry ingredients in a medium bowl and whisk to combine.
Combine egg, honey and water, add in coconut oil. Add liquids to the dry ingredients, mix until well combined.
Divide dough into 8 equal portions and roll each section in to a ball, using additional arrowroot powder to keep dough from sticking to your fingers.
Optional: In a small bowl combine Sesame seeds, poppy seeds and garlic powder, roll each ball lightly in the seed mixture.
Place each ball on a baking sheet that's been lined with unbleached parchment paper.
Reduce oven temp to 325 and bake for 40 minutes on the middle rack.
For best results, allow rolls to cool before serving.
Enjoy!
Recipe submitted by Hayley, Smithfield, PA
Published on November 25, 2013