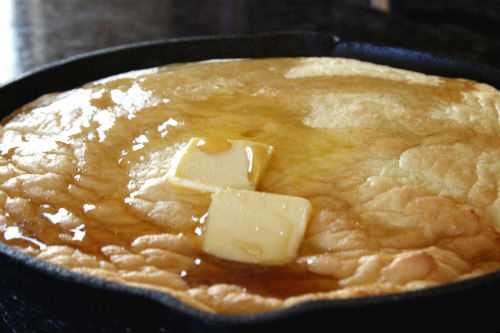 Grain Free German Pancake Recipe
photo by recipe author
Servings: 3-4
Preparation Time: 10 minutes
Preheat oven to 400 degrees °F.
Combine 4 yolks, sugar and salt in a bowl and whisk until thick and lemon color (about 1-2 minutes). Whisk in the milk, water and vanilla. Add in the arrowroot and whisk until smooth.
In a separate bowl, beat the egg whites until stiff peaks form, but not dry.
Add the whites to the yolk mixture, gently whisk until the whites are incorporated, but not deflated. Light foam is what you want.
Melt butter in a 10 inch oven safe skillet (I prefer cast iron) over medium heat. Once the bubbles have subsided, pour the batter into the skillet and cook until the bottom is golden (about 2 minutes).
Place the skillet in the oven and bake until it puffs up and the top is golden and feels dry and set (about 5 minutes).
Slide onto a plate and serve hot with grass-fed butter and syrup, fresh fruit sauce or warm preserves.
* For the freshest coconut milk make homemade coconut milk. (See video at this link.)
Recipe submitted by Kate, Highlands Ranch, CO
Published on March 27, 2013