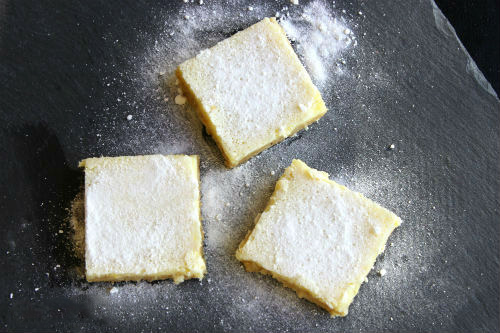 Grain Free Lemon Bars Recipe
photo by recipe author
Servings: 8
Preparation Time: 15 minutes
Crust:
Filling:
3 pastured eggs
1/2 cup sugar
4 tablespoons lemon juice (2 small lemons)
1 1/2 teaspoons lemon zest (1 lemon)
1/2 teaspoon baking powder
Crust:
Preheat oven to 350 degrees F.
Combine all of the ingredients in a food processor and pulse until combined. A mixer should work as well.
Press the dough into a greased 8×8 baking dish. Bake for 15-20 minutes until slightly golden Remove from heat and let cool quite a bit to set up.
Filling:
Heat the oven back to 350 and make sure it's ready before you start mixing the ingredients. The baking powder will be affected if you wait to bake these.
Place all ingredients EXCEPT the baking powder in a food processor and combine. A mixer will work, but lemon zest will not be ground down and unnoticeable in bars. Add in the baking powder and pulse one last time.
Pour the filling over the crust and bake for about 25 minutes until crust is set. It shouldn't get brown, it will feel stiff to touch.
Sift powdered sugar over the top. This is optional. Store in the refrigerator until serving.
Not a lemon person? Substitute the lemon juice and zest for lime.
*You can grind your own almond flour by placing whole almonds in a blender/food processor and blending until a meal consistency is reached.
Recipe submitted by Kate, Highlands Ranch, CO
Published on April 8, 2013