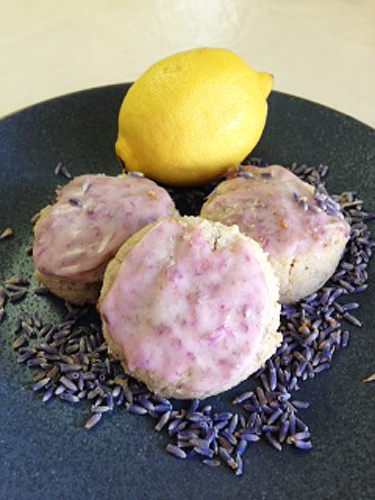 Grain Free Lemon Lavender Cookies
photo by recipe author
Servings: 24
Preparation Time: 45 minutes
Lavender Simple Syrup:
½ cup water
½ cup sugar
1 tablespoon lavender
Cookies:
2 cups almond flour*
½ cup coconut flour
2 tablespoons lavender, ground
½ teaspoon baking soda
½ teaspoon salt
½ cup coconut oil, melted
½ cup lavender simple syrup
1 egg
2 tablespoons lemon juice
½ teaspoon vanilla
3 teaspoons lemon zest
4-6 drops lemon oil
Glaze:
½ cup powdered sugar
1 tablespoon ground lavender
2 tablespoons lemon juice
3-4 drops lemon oil
Lavender Simple Syrup:
In small pan, mix water, sugar, and lavender. Heat briefly to dissolve sugar. Set aside to cool.
Strain mixture and dispose of lavender.
Retain simple syrup for cookies. (Any extra is delicious in tea!)
Cookies:
Preheat oven to 350° F
In a large bowl, combine almond flour, coconut flour, ground lavender, baking soda, and salt.
In small bowl, stir together coconut oil, lavender simple syrup, egg, lemon juice, vanilla, lemon zest, and lemon oil. Add wet ingredients to dry ingredients and mix.
Form 1 ½ inch balls of cookie dough and press onto parchment lined baking sheet using 2 tablespoons dough per cookie.
Bake at 350° F for 7-10 minutes.
Glaze:
In small bowl, combine powdered sugar, ground lavender, lemon juice, and lemon oil.
After removing cookies from oven, cool on baking sheet for approximately 2 minutes. Gently spread approximately ½ teaspoon of glaze on each cookie.
Cool completely and serve.
*You can grind your own almond flour by placing whole almonds in a blender/food processor and blending until you get a fine meal.
Angie from Lubbock, TX won $50 for this recipe and photo! Submit your coconut recipes and photos here!
Published on September 9, 2015