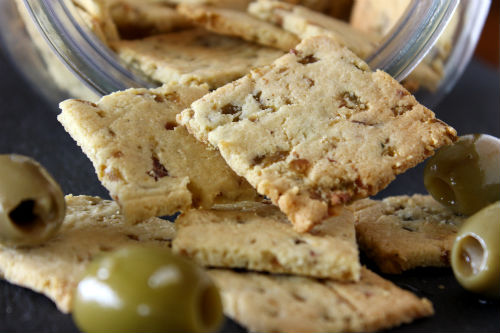 Grain Free Olive Garlic Crackers
photo by recipe author
Servings: 6-8
Preparation Time: 10 minutes
Combine flour, salt and garlic in a large mixing bowl and add in the olives.
Pour the melted coconut oil and egg over the mixture and stir until combined.
Place the dough on a piece of parchment paper with another piece of parchment placed over top.
Press the dough dough a bit and then roll it out with a rolling pin until it's about 1/4 inch thick.
Using a pizza cutter or sharp knife, cut the crackers into the desired size.
Bake at 350 ºF for 15-20 minutes or until golden on top.
Store in an airtight container, glass is my favorite.
Kate from Highlands Ranch, CO just won $50 for this recipe and photo!
Submit yours
here.
*You can grind your own almond flour by placing whole almonds in a blender/food processor and blending until you get a fine meal.
Published on June 28, 2014