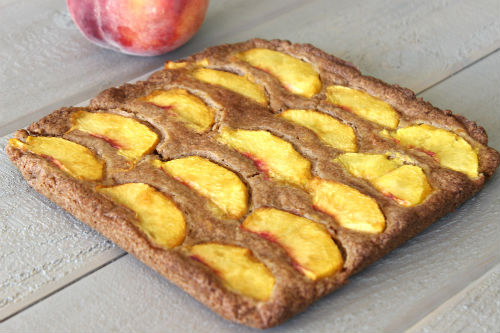 Grain Free Peach Cookie Bars Recipe
photo by recipe author
Servings: 8
Preparation Time: 10 minutes
2 cups almond flour*
1/2 cup arrowroot flour
1/4-1/2 cup granulated sugar
1 peach, peeled and sliced (the more unripe the peach is, the better)
2 tablespoons grass-fed butter, softened and cut into pieces or coconut oil
1-2 tablespoons coconut milk**
1 tablespoon vanilla extract
1- 1 1/2 teaspoon cinnamon
1/2 teaspoon baking soda
1/4 teaspoon sea salt
Preheat oven to 350 degrees °F.
Line an 8×8 baking dish with parchment paper, this makes it really easy to get the bars out in one piece.
Place all of the dry ingredients into a food processor and combine.
Add in the butter, vanilla and 1 tablespoon of milk and pulse until a dough forms. The dough should form a ball and be wet, add more milk if needed.
Press the dough into the baking dish until fully covered, then place the peach slices on top of the dough.
Bake at 350 for 32-35 minutes or until the top is golden.
Let cool, remove the bars from the pan by pulling up on the sides of the parchment paper. Cut into desired size bars.
Store in an airtight container. These are great at room temp, but as with all almond flour goodies, I think they are best out of the freezer!!! Let them sit for a minute or two out of freezer to thaw the peach.
Quick notes
*You can grind your own almond flour by placing whole almonds in a blender/food processor and blending until you get a fine meal.
** For the freshest coconut milk make homemade coconut milk. (See video at this link.)
Softened coconut oil should work in place of the butter for those that are dairy free.
Recipe submitted by Kate, Highlands Ranch, CO
Published on September 28, 2013