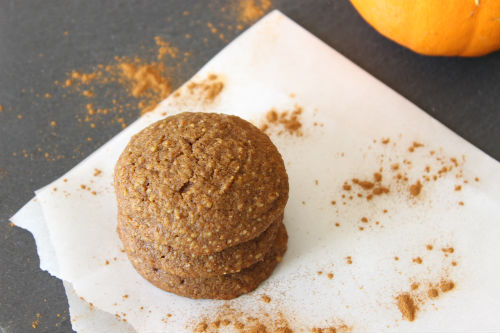 Grain Free Pumpkin Pecan Cookies Recipe
photo by recipe author
Servings: 15
Preparation Time: 15
Preheat oven to 375 degrees ºF.
Place the pecans in a food processor and blend until the nuts resemble coarse sand and start to clump together. It's the stage before pecan butter would start. Add in the sugar, arrowroot, spices, salt and soda. Pulse a couple times until combined.
In a large mixing bowl, whisk the egg with the pumpkin, butter and vanilla. Pour the pecan mixture into the wet mixture and combine. Spoon dough out onto a parchment lined cookie sheet. The cookies will spread a bit.
Bake in preheated oven for 12-14 minutes. Place on a cooling rack to cool.
Quick notes
I almost made these without the egg and I think they would still work without it. The arrowroot provides some structure and binding. I think the end result may be a harder crunchier cookie which may be what some of you prefer.
Variations
I prefer using my own spices rather than pumpkin pie spice blends from the store. I think it tastes better and allows you to add more off a specific flavor that you prefer. You could certainly use a spice blend, but I would add it in the end so you can keep adding if need be.
I typically don't provide a variation unless I try it myself. I think this would work with maple syrup or honey. I would remove the egg (it provides liquid and see my quick notes section above) and use 1/4 cup or less of liquid sweetener. Add it with the rest of the liquid ingredients. You can always start with less and ad more if need be!
Recipe submitted by Kate, Highlands Ranch, CO
Published on October 17, 2013