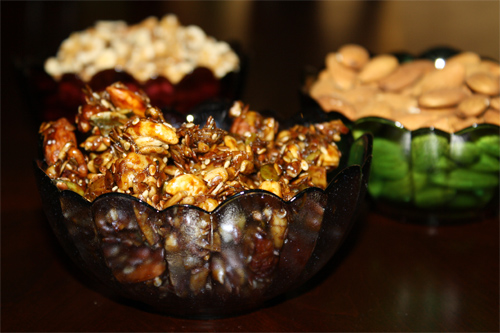 Grain-Free Raw Coconut Granola
photo by recipe author
You can totally play with this recipe! This recipe yields around 22 cups of granola. You just want about 19 or 20 cups worth of your favorite seeds, nuts and flakes total, so measure out your desired ingredients.
22 1-cup servings
Preparation Time: 20 minutes
Set aside 4 cups of the coconut flakes. Put all wet ingredients and spices into a pan. Warm over a very low heat and stir to blend the flavors. Do not use a high heat.
Chop the coconut flakes into the size of oats. Add the chopped coconut flakes to the liquid. Turn off heat.
Chop the nuts up if you want to make a breakfast cereal substitute. Add the wet portion to the remainder of your dry ingredients, and stir until it's well-blended. Store in an airtight container. It will keep for weeks, if it lasts that long!
Recipe submitted by Tamara, Spring, TX
Published on February 2, 2011