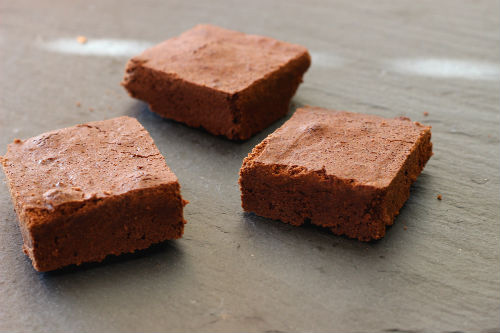 Grain & Nut Free Fudge Brownies
photo by recipe author
Servings: 9-12
Preparation Time: 15 minutes
2 oz 100% cacao
6 tablespoons
grass-fed butter (or 5 tablespoons
coconut oil)
2 tablespoons full fat coconut milk*
1 tablespoon
vanilla extract

1/4 cup tapioca flour/starch (arrowroot should work, tapioca tends to be a tad bit sweeter)
1/3 cup cacao or
cocoa powder
1 cup granulated cane sugar
1/2 teaspoon sea
salt
Preheat oven to 350 degrees ºF.
Melt the chocolate, butter and coconut milk in a double boiler.
Whisk the eggs and vanilla in a small bowl and set aside.
In a large mixing bowl combine the tapioca flour, cacao powder, sugar and salt. Add the egg mixture to the flour mixture and stir a couple times, doesn't need to be combined well.
Once the chocolate is melted, pour it over the egg and flour mixture and stir until combined.
Pour batter into an 8×8 greased baking dish.
Bake at 350 for 25-30 minutes. Store in an airtight container.
Quick Notes:
*For the freshest coconut milk make
homemade coconut milk. (See video at this
link.)
You can also use chocolate chips or any high cacao chocolate bar in place of the 100% cacao. I wanted to make these dairy free and sugar free or I would have used my favorite chocolate chips. You may need to reduce the amount of sweetener.
Kate from Highlands Ranch, CO just won $50 for this recipe and photo!
Submit yours here.
Published on May 12, 2014