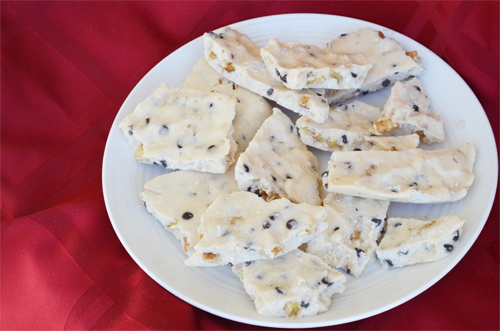 example of Coconut Cream Bark shown
Granola
Mix oats, shredded coconut, seeds and nuts, then set aside.
In a pan combine remaining ingredients. Heat and stir until well mix. Do not boil. Pour over oat mixture and stir to combine well. Pour granola into an edged baking pan. Bake at 300 F stirring every 10 minutes until lightly browned, about 20-30 minutes. Cool. Store in an airtight container.
I add this Granola recipe to a very similar Coconut Cream Concentrate recipe which I call Coconut Cream Bark. I have been making this recipe for almost a year now.
Coconut Cream Bark
Place Coconut Cream Concentrate jar in warm water to soften if needed. Mix the rest of the ingredients with the coconut cream and allow to set up in the refrigerator if you can wait!!
Options:
Roll balls of this filling in the granola recipe above or add granola to the Coconut Cream Concentrate mixture. Cool and break apart.
Add 1 teaspoon cinnamon or 1/4 cup carob powder.
Add carob chips.
Add other flavorings such as cherry, almond, or maple.
Recipe submitted by Elaine, Bonham, TX
Published on January 30, 2008