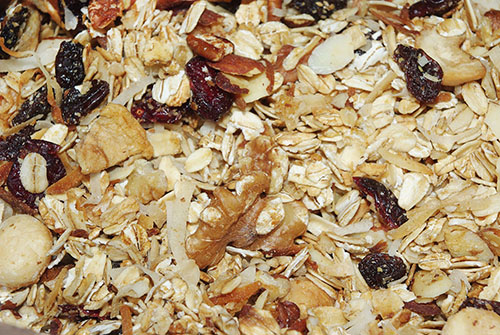 Granola
photo by recipe author
Servings: 30-36
Preparation Time: 2 hours
If the nuts are raw, set oven to 350° F and place raw nuts on a cookie sheet. Roast them just until you can smell them and the skins crackle.
Note: Each nut roasts at a different time. Almonds = 15 minutes, macadamia = 15 minutes, walnuts = 8 minutes, cashew = 8 minutes, pecans = 5 minutes.
Once the nuts are roasted and cooled enough to touch, break them into smaller pieces and put them in a large bowl.
Turn the oven heat down to 250° F.
Add to the large bowl: oats, shredded coconut, raw honey, olive oil, and salt. Mix well until honey and oil cover all of the oats and nuts.
Spread the mixture out onto cookie sheets or cake pans. It will take more than one. Place them into the oven and cook for 1.5 hours, stirring every 15 minutes. Depending on your oven, it could take less time. Oats should take on a golden color when done cooking.
Remove from the oven and let cool.
Once cool, put the mixture into an airtight container or zip lock bag.
Add dried fruit into the bag then seal and shake well to mix.
This recipe keeps for several months, if not eaten before then.
Jennifer from Sulphur, LA won $50 for this recipe and photo! Submit your recipes and photos here for a chance to win $50!
Published on June 5, 2017