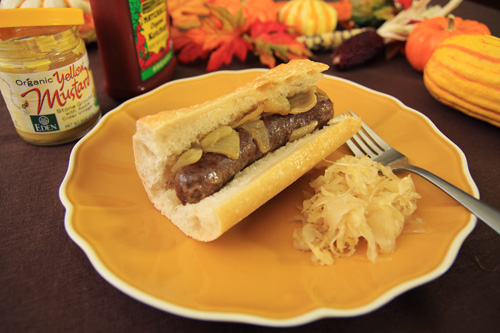 Bison Brat slow cooked in beer and onions and
served on sourdough hard roll with sauerkraut ready for toppings!
Prepared by Marianita Shilhavy, Photo by Jeremiah Shilhavy
Bratwursts (brats) are a traditional German sausage, and are popular this time of year, as they are usually served up in German "Oktober Fests" in Germany and other places with large German populations. Besides cooking these sausages on the grill, they are often simmered in a slow cooker with onions and beer in traditional German style, producing a nice tender sausage by softening the hard casing. Our brats are the healthier variety made from grass-fed bison rather than the traditional pork scraps.
Servings: 8
Preparation time: 5 minutes
1 tablespoon coconut oil
1 bottle (12 oz. organic beer)
1 medium sized onion, sliced
Heat oil in a large pan over medium high heat. Brown the brats briefly on each side to seal in the juice but keep the insides raw.
Arrange the brats in the bottom of a slow cooker and pour beer over top. Add the sliced onion.
Cook on low for 4-5 hours, or until done. Serve with ketchup, mustard, sauerkraut, and other relishes and toppings of choice.
Recipe courtesy Marianita Shilhavy
Published on October 23, 2009