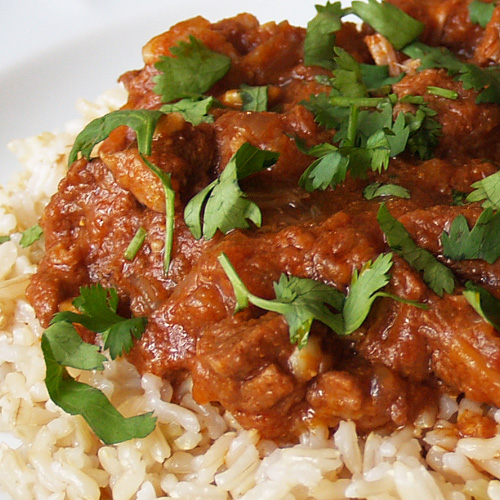 Grass-fed Lamb Curry Stew with coconut oil served with brown rice and cilantro
Prepared by Sarah Shilhavy, Photo by Jeremiah Shilhavy
This is a mild lamb curry. If you make it again, you can add more heat (cayenne pepper) gradually to your taste.
Heat the oil in a Dutch oven or large pot and add chopped onion. Sauté the onion gently so that it becomes translucent but not browned. Add ginger, garlic, curry powder, half the wine and the entire can of tomatoes, with liquid.
Lower heat and let the sauce cook gently on low heat until the oil rises to the surface. Add lamb and remaining wine, and the first amounts of cumin, coriander and paprika.
Cover and simmer on lowest heat, stirring every 30 minutes or so and checking if more water is needed.
After 1 1/2 – 2 hours, add rest of cumin, coriander, and paprika.
Cook until lamb is very tender. If using garam masalla, add it at the end of cooking; turn off heat and cover pot.
Serve with basmati rice and chutney.
Recipe submitted by Simi, Los Angeles, CA
Published on October 4, 2009