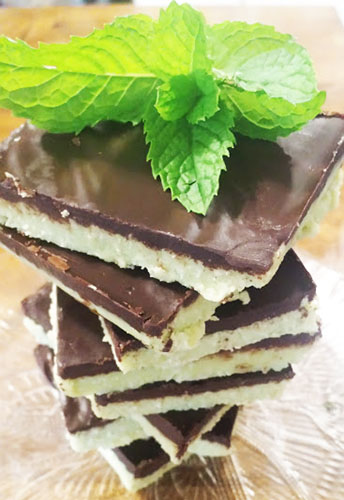 Grasshopper Bars
photo by recipe author
Servings: 9 (3×3) bars
Preparation Time: 30 minutes
Minty Layer:
Chocolate Layer:
Line a 9×9 baking dish with parchment paper.
For the minty layer: blend avocado, honey, melted coconut oil, shredded coconut, essential oil, & salt until smooth. Pour this into the lined baking dish. Put in freezer to chill while making chocolate coating.
For chocolate coating: melt coconut oil and honey in a saucepan on low heat. Remove from heat and add cocoa powder, vanilla, and Himalayan salt.
Using a hand whisk, whisk until smooth and well-blended. Spread over minty layer and return to freezer until hardened. Remove from the freezer and cut into bars and enjoy right away, or store in freezer.
Recipe and photo by Lynelle. Submit your recipes and photos here for a chance to win $50!
Published on May 25, 2017