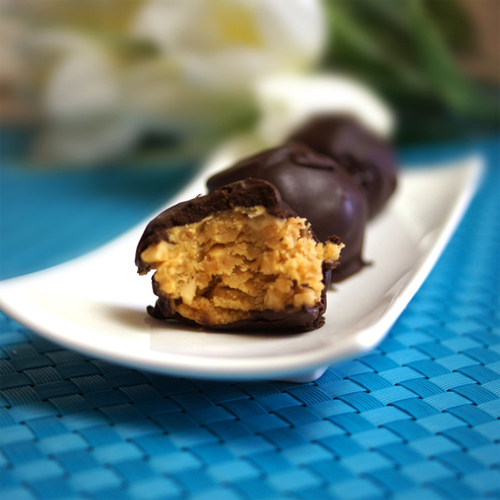 Healthier Peanut Butter Balls
photo by recipe author
Servings: 20 pieces
Preparation Time: 1 hour total
For peanut butter filling:
For chocolate coating:
In a medium bowl, mix together the peanut butter, honey and a pinch of sea salt. Add in the coconut flour gradually– starting first with a 1/4 cup, then adding it in a tablespoon at a time until a "dough" forms. I ended up using a 1/2 cup of coconut flour, but it may vary depending on the texture of your peanut butter.
Using a cookie scoop, drop the dough by rounded tablespoons onto a pan lined with parchment paper. (Roll with your hands to make them smooth, if you like.) Place them in the freezer to set for 30 minutes.
After 30 minutes, melt the chocolate together with the coconut oil. (I used an oven-safe bowl– 5 minutes at 400F– but any method works!)
Remove the peanut butter balls from the freezer, and dip each one into the melted chocolate mixture, coating each one thoroughly. Return the chocolate-covered balls to the parchment paper to set. There will inevitably be some areas that won't get covered (where your fingers touched), so feel free to spoon some extra chocolate over the tops when they've all been dipped!
Return the balls to the freezer to set for another 30 minutes, then serve. They are delicious when served cold, or at room temperature!
I recommend storing them in the fridge or freezer for longer shelf-life.
Recipe submitted by Megan, Glendale, CA
Published on April 11, 2012