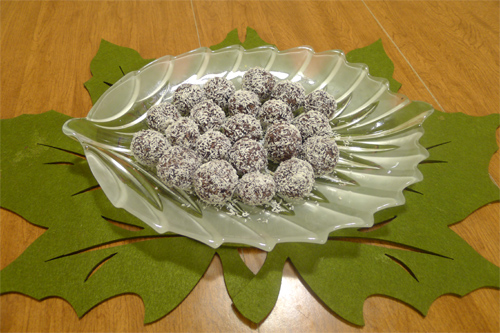 Healthy Blueberry Coconut Balls Recipe
photo by recipe author
Servings: 20 – 25 coconut balls
Preparation Time: 20 – 30 minutes
Optional: additional unsweetened shredded coconut or coconut flakes to roll the balls in
Place all ingredients except blueberries, coconut oil and flakes/shredded coconut in a food processor and blend until smooth. If you do not have a food processor, cut dates and figs into little pieces with a knife and mix with the other ingredients together.
Add blueberries and flakes/shredded coconut in a food processor and mix on low, just a little until blended. Pour virgin coconut oil and blend on low for other 10 seconds.
Remove from food processor and roll into 1 1/2 inch balls. Roll in extra shredded coconut if you desire.
Refrigerate for 30 minutes before eating.
Sometimes when I do not have time, I just spread all the mixture 1/2 inch thick on a plate and cut into inch by inch pieces after refrigeration.
Enjoy!
Note: I created this recipe to decrease the glycemic index (GI) and glycemic load (GL) of the fruits in order to minimize insulin increase (GI) and to keep the carbohydrate intake low (GL).
Dates: GI – 103; GL – 42.
Figs: GI – 61; GL – 16 (Figs offer a better choice than dates).
Blueberries: GI – 40; GL – 3. Moreover, berries have the highest ORAC ratings per 100 grams among fruits for antioxidant level.
Recipe submitted by Galina, Hudson, NH
Published on January 31, 2014