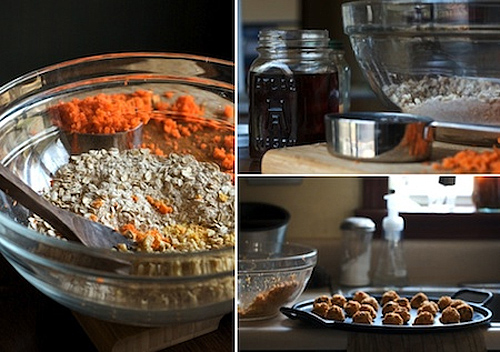 Healthy Carrot Oatmeal Bites
photo by recipe author
Servings: Makes about 2 1/2 dozen cookies
Preparation Time: 15 minutes
1 cup white whole wheat flour (preferably freshly ground)
1 teaspoon baking powder (or 2/3 teaspoon cream of tartar and 1/3 teaspoon baking soda)
scant 1/2 teaspoon fine grain salt
1 cup rolled oats
2 teaspoons cinnamon (optional)
2/3 cup chopped walnuts (or nuts of choice)
1 cup shredded carrots
1/2 cup shredded coconut (optional)
1/2 cup real maple syrup, room temperature
1/2 cup unrefined coconut oil, warmed until just melted
1/2 cup chopped crystallized ginger (optional)
2 teaspoons grated fresh ginger
Preheat oven to 375F degrees and line two baking sheets with parchment paper.
In a large bowl whisk together the flour, baking powder, salt, oats and cinnamon. Add the nuts, coconut, and carrots.
In a separate smaller bowl use a whisk to combine the maple syrup, coconut oil, and gingers. Add this to the flour mixture and stir until just combined. *quick tip* – if you measure the coconut oil in the measuring cup first you don't have as much maple syrup stick in the cup, most of it slides right out.
Drop onto prepared baking sheets, one level tablespoonful at a time, leaving about 2 inches between each cookie. I use a small ice cream scoop and press into my hand, these cookies have a tendency to fall apart a bit so they need some care. Bake in the top 1/3 of the oven for 10 – 15 minutes or until the cookies are golden on top and bottom.
Recipe submitted by Susy, Malvern, OH
Published on March 25, 2011