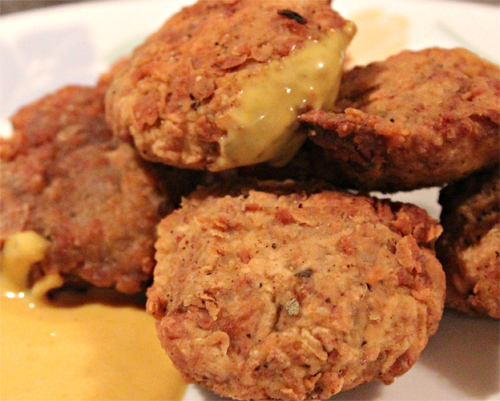 Healthy Chicken Nuggets Recipe
photo by recipe author
Servings: 2-4 cups
Preparation Time: 15 minutes
1. Make the flavor mix: over medium heat melt butter and coconut oil with water, salt, pepper, parsley, and 1 teaspoon chicken seasoning. Depending on how much chicken you have you might need more or less of this. Set aside to cool.
2. Beat eggs, vinegar, milk and 1 tablespoon flavor mix together. Set aside. Mix coconut flour, einkorn flour, 1 teaspoon chicken seasoning and a pinch or two of black pepper together. Pour onto a plate. Set aside.
3. Add 1 cup chicken at a time to a food processor with 1 tablespoon of einkorn, 1/2 tablespoon flavor mix, 1/2 tablespoon milk, and red pepper. Blend until chunky (not too smooth). Empty into a bowl until all chicken has been mixed by repeating the process. Chicken mixture should be sticking but thick enough to hold together.
4. Work chicken into golf ball sizes, dunk first in milk bath coating all sides, then dunk in flour coating. Press down on nugget slightly to create a flatter nugget as you coat both sides. Set on a plate and repeat until you have enough to start cooking.
5. Heat palm shortening and coconut oil to medium-high heat. We prefer 3/4 palm shortening and 1/4 expeller pressed coconut oil for frying. Use just enough for nuggets to float. Slowly add nuggets to oil, enough to fill pan without crowding. Adjust heat as needed. After 1-2 minutes, flip nuggets with a fork and continue cooking until done.
6. Drain and cool nuggets. Serve with your favorite dipping sauce such as honey mustard, ranch, BBQ sauce, ketchup, etc. and enjoy!
Cheree from Allons, TN just won $50 for this recipe and photo!
Submit yours here.
Published on April 18, 2014