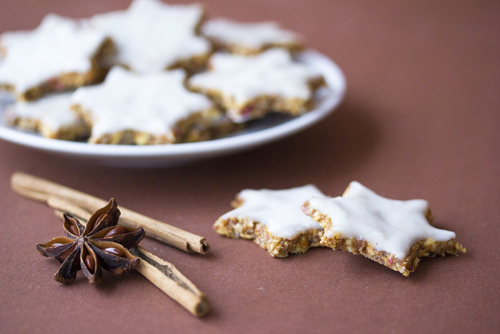 Healthy Cinnamon Stars with Coconut Frosting
photo by recipe author
These are traditional Christmas cookies in Switzerland. They're called cinnamon stars and are usually coated with sugar frosting. This recipe offers is a healthy alternative for both the cookie and the frosting.
Preparation Time:  60 minutes
For the cookies:
80 grams dried apple
40 grams ground hazelnuts
2 teaspoons cinnamon
For the frosting:
Place the dried apple pieces in your food processor, then transfer into a bowl. Mix in the hazelnuts and the cinnamon, blend together well with a spoon or your hands.
Now carefully add water until you get a dough. It doesn't need much.
Roll the dough and cut out star shaped cookies. Put them on a dehydrator sheet and let them dehydrate for about 2 hours. This step isn't necessary but cures them.
For the frosting heat up the coconut butter until it is has a peanut butter-like consistency. Mix it with the honey and water and spread it on the cookies.
Anja from Klingnau, Switzerland, just won $50 for this recipe and photo! Submit yours here.
Published on February 11, 2015