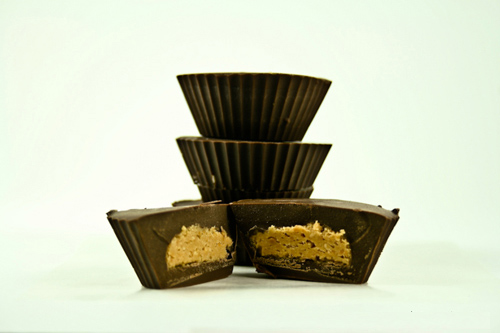 Healthy Homemade Peanut Butter Cups
photo by recipe author
Servings: 10
Preparation Time: 30 minutes
In a double boiler or a saucepan over very low heat, melt the coconut oil and sweetener of choice. Add the cocoa powder and salt and whisk vigorously until well combined. Add the stevia and remove from the heat.
Note: You can use pretty much anything to make these – ice cube trays, muffin tins, mini muffin tins, mini silicone baking cups, etc. The mini silicone baking cups work the best and give you the most "realistic" Reese's Peanut Butter cup look.
Either pour or use a spoon to fill the cups 1/4 full. Stick the cups in the freezer for about 10 minutes or until the chocolate is hard. Remove from the freezer and using a 1/2 teaspoon measuring spoon, scoop the chilled peanut butter out and place in the cups. You can use the back of the spoon to press them down just a tad, but leave room for the chocolate to get all the way around the peanut butter. Next, pour or spoon the chocolate over the peanut butter until the cup is almost full and the peanut butter is covered. Place back in the freezer for 30-60 minutes. Now, they are ready to eat!
Don't forget to store in the fridge or the freezer to keep them from melting!
Recipe submitted by Jessica, Denver, CO
Published on December 16, 2011