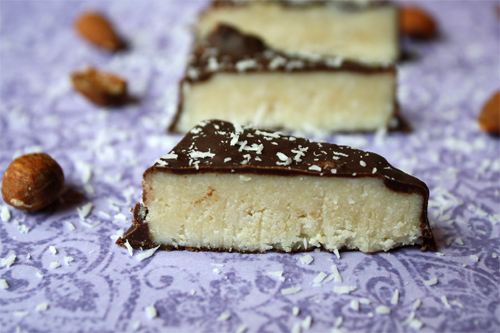 Healthy Mounds or Almond Joy Bars
photo by recipe author
Servings: 10 large bars
Preparation Time: 20 minutes
Coating:
In a food processor, put the filling ingredients and blend 1-2 minutes until well incorporated and smooth. Taste for sweetness, add more if you like. It is necessary the coconut oil be soft or melted so the mixture blends.
Line an 8 x 8 or similar sized pan with waxed paper or parchment. Pour the mixture in and spread around evenly. If you would like to use almonds, now is the time. Press them in! Place the pan in the fridge or freezer to speed the solidifying process.
Meanwhile, melt your chocolate with the coconut oil. Once solid, lift the whole chunk out by lifting the paper. Cut into desired shapes. Dip each piece in the chocolate, letting the excess drip back before laying it on a silpat, parchment, or waxed paper to solidify. Store in an airtight container on the counter or in the freezer. Unlike most coconut oil delicacies, these are solid at room temp and travel well out of refrigeration.
Recipe submitted by Tessa, Hillsboro, OR
Published on April 20, 2012