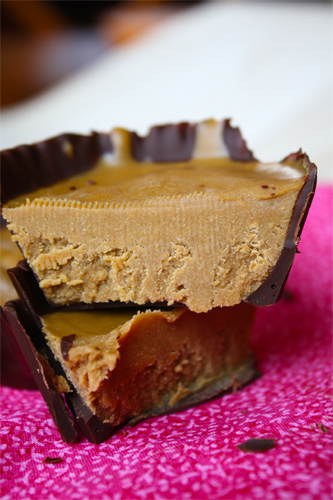 Healthy Nutbutter Cups
photo by recipe author
Servings: 24
Preparation Time: 20 minutes
Blend all ingredients except chocolate) in a mixer until smooth. Melt the chocolate chips in a double boiler. DO NOT OVER-HEAT THEM…it makes them gritty and tough.
Line a muffin tin (all I had was large paper muffin liners, but these would be perfect in mini muffins too). Pour a tablespoon or so of melted chocolate into the paper liner, and brush the chocolate up the sides, no need to be exact. The chocolate will harden almost instantly as you brush it up the sides. Fill with the nut butter filling, and place in the freezer.
Store under refrigeration or in the freezer! You could always use a zester to put some pretty chocolate curls on top, or a few extra chocolate chips.
Recipe submitted by Tessa, Hillsboro, OR
Published on April 30, 2012