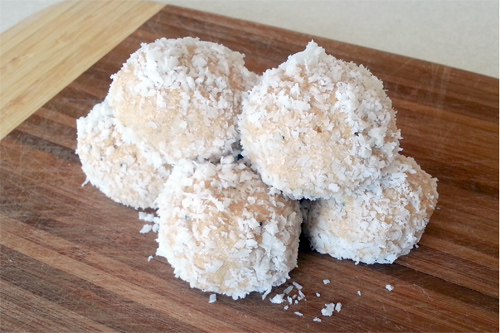 Healthy Peanut Butter Protein Balls Recipe
photo by recipe author
Servings: 6
Preparation Time: 10 minutes
In a medium mixing bowl, stir together peanut butter and honey. Add coconut oil and mix well. Add 1/3 cup shredded coconut and chia seeds, mix well. Add powdered milk and stir until fully incorporated. The balls should have a soft texture and should not stick to your hands when touched. Add more powdered milk if balls are too sticky.
Place 2/3 cup shredded coconut into food processor (or blender, magic bullet, etc.) and process until fine texture.
Roll peanut butter mixture into 1-2 inch balls. Roll in shredded coconut. Serve.
Store in an airtight container.
Amanda from Rigby, ID just won $50 for this recipe and photo!
Submit yours here.
Published on April 2, 2014