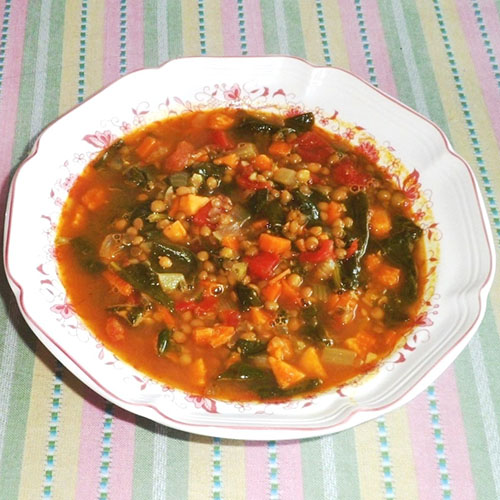 Hearty Lentil Soup
photo by recipe author
Servings: 4-6
Preparation Time: 1 1/4 hours+ soaking time for lentils
3/4 cup green lentils
1 tablespoon apple cider vinegar
1/4 cup coconut oil
1 large onion, diced
2 carrots, diced
2 stalks celery, diced
1 medium sweet potato, peeled and diced
3 cloves garlic, minced
1 teaspoon Himalayan pink salt
1 teaspoon ground cumin
1 teaspoon ground coriander
1 teaspoon ground paprika
1 teaspoon ground turmeric
1 1/2 quarts chicken, vegetable, beef or bison broth/stock
1 pint diced tomatoes, with juice
2 bay leaves
1 cup parsley, minced
6 ounces spinach leaves, chopped
salt and pepper to taste
additional broth, as needed
In a bowl, cover lentils with an inch of warm water, stir in the vinegar and soak 8 hours, up to overnight. After soaking, drain lentils and rinse well.
In a soup pot, warm the coconut oil over medium-high heat. Stir in the diced onions, carrots, celery, sweet potato, garlic and pink salt. Sauté, stirring occasionally, until vegetables are softened, about 5-7 minutes. Add the cumin, coriander, paprika and turmeric. Mix well. Sauté 30-60 seconds to bloom the flavors, stirring constantly, being careful not to burn the aromatics.
Add the broth, lentils, tomatoes and bay leaves. Stir well. Bring to a boil, then lower heat to simmer and cover. Simmer about 45 minutes, or until lentils are tender.
Stir in the parsley and spinach and simmer, uncovered, until the spinach is wilted. Add salt and pepper to taste.
If a thinner soup is desired, add more broth and salt and pepper as needed. Remove the bay leaves before serving.
Stephanie from Sierra Madre, CA won $50 for this recipe and photo! Submit your recipes and photos here!
Published on October 28, 2016