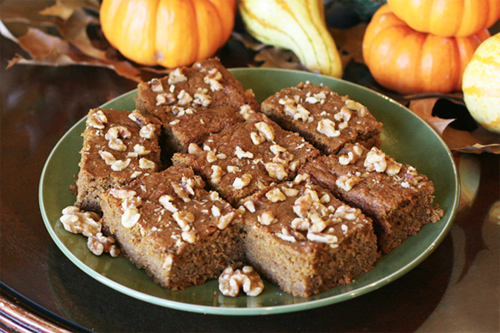 High Protein Pumpkin Spice Cake Recipe
photo by recipe author
Servings: 9-12
Preparation Time: 10 minutes
Recipe: This spice cake is a delicious healthy remake of classic pumpkin bars. We love it for breakfast.
Preheat oven to 350 degrees F.
In a medium sized mixing bowl combine the cane sugar and coconut oil. Add the molasses, eggs, cottage cheese or Greek yogurt, pumpkin puree and vanilla extract. Stir to thoroughly combine. Dump the flour on top of the batter (don't stir just yet). Sprinkle the remaining ingredients except nuts over the top of the flour. Alternately you can use a small sieve to sift the dry ingredients over the batter. Stir to combine. Pour into a greased 9×9 inch baking pan. Sprinkle nuts over the top.
Bake at 350 degrees for 40-45 minutes or until a toothpick inserted in the center comes out clean.
Recipe submitted by Melodie, Fort Mill, SC
Published on November 10, 2012