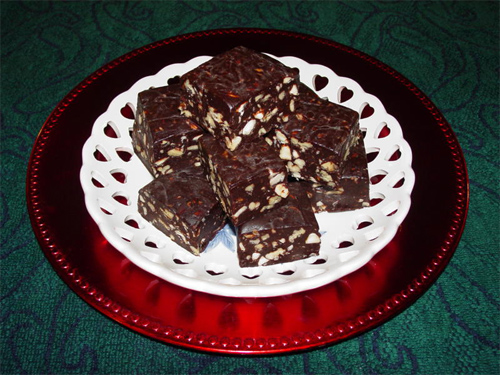 Holiday Date Fudge Recipe
photo by recipe author
Servings: 12
Preparation Time: 40 minutes
Soak pitted dates in hot water for 10 minutes then drain well & dry on paper towel. Blend the dates & coconut oil in a large food processor until smooth. Add cocoa, vanilla extract & honey, continue to blend until mixed well. Recipe can be made in 2 half batches for easier blending.
Put fudge mixture into 1 gallon heavy duty freezer zip lock bag. Add nuts & seal bag with most of the air out then massage by hand until the nuts are mixed well into the fudge. Press all the air out of the bag, seal & place on flat surface & press down firmly to shape the fudge. Refrigerate for 1 day.
Compress fudge again on the 2nd day to get a firmer fudge consistency. On the 3 day it can be cut into 12 pieces. Keep refrigerated until served.
For holiday meals, freeze separated fudge pieces for 1 hour then stack fudge on a chilled serving plate immediately before table presentation.
Recipe submitted by Kathleen, Anaheim, CA
Published on November 26, 2012