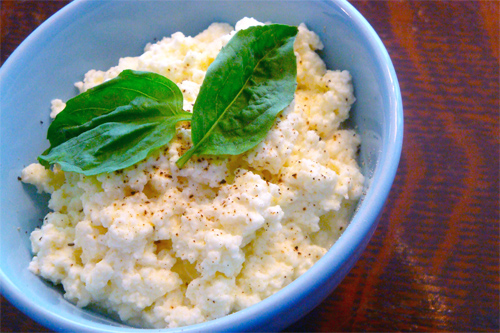 Homemade Coconut Vinegar Ricotta
photo by recipe author
Much simpler than most imagine, homemade ricotta just can't be beat for flavor – especially when made with coconut vinegar which adds a most delicious depth of flavor. You may never use that bland, store-bought stuff again! Spread on bruschetta, add it to your eggs, use in your favorite lasagna recipe or just sneak it plain – very hard to stop once you start, especially with the WONDERFUL fragrance that will fill your kitchen when you make this!
Servings: Makes approx. 2 cups
Preparation Time: 20 min
4 cups organic raw or gently pasteurized whole milk
2 cups organic raw or gently pasteurized heavy cream
1 teaspoon salt
3 tablespoons raw coconut water vinegar
In a large heavy pot (such as a heavy stainless steel stockpot or enamel coated cast iron pot) add the milk, cream and salt.
Over medium heat bring the mixture to a full boil, stirring occasionally. Place several layers of damp cheesecloth in a pasta strainer and place over a large bowl.
When mixture reaches a boil, turn off the heat and stir in the vinegar. Allow to sit for one minute as the mixture separates into curds and whey.
Carefully pour into the cheesecloth covered strainer and allow to drain for 10-25 minutes, depending on desired moisture content. Reserve the liquid whey as a delicious addition to baked goods.
Enjoy! It will keep for a few days tightly covered in the fridge, but I can't say it's ever lasted that long around here!
Recipe submitted by Lydia, Salem, VA
Published on July 6, 2011