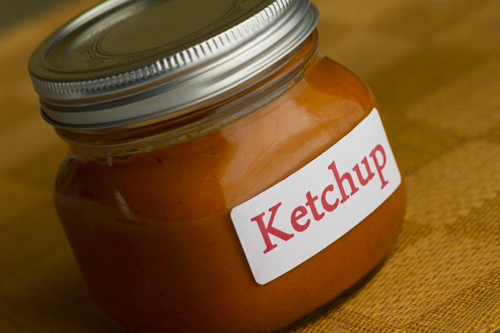 Homemade Fresh Tomato Ketchup
Prepared by Sarah Shilhavy, Photo by Jeremiah Shilhavy
3 tablespoons coconut oil, or as needed
1/2 -1 white or yellow onion, roughly chopped
2-4 cloves garlic, peeled
1/4 teaspoon celery seed
1/2 teaspoon allspice
1/2 teaspoon fennel seeds
3 whole cloves
salt, to taste
2 lb tomatoes, quartered
3/4 cup coconut water vinegar
2 tablespoons honey
Melt coconut oil in a large saucepan and add onion and garlic. Sauté lightly for about 20 seconds. Turn heat off and stir in remaining ingredients.
Simmer over medium low to low heat until ketchup becomes thick and reduces by half, approximately 2-4 hours. Stir every once in awhile as needed.
Purée ketchup in a blender, and then strain through a mesh strainer. If you wish, adjust seasoning to taste and if the ketchup isn't at the thickness you want, return to the saucepan and simmer until it's just the way you want it.
Cool, and then store in the refrigerator.
Don't let the long ingredient list fool you. This recipe is actually very easy to make. I just got a little carried away with the spices.
But really? Allspice? Cloves? Are we making pumpkin pie? No, we're not. Trust me, they all work together. It doesn't taste like ketchup made with pumpkin pie spice mix. It's really, really yummy.
You can give and take on the spices, if you want. But if you have all the ingredients on hand, make it just as is first and see if you like it. There isn't much of each spice, so they all work together to create that ketchup flavor. If you think you can make it better to suit your taste buds, go right ahead! Then let me know what spices you did or didn't use, and how you liked it.
The aroma of the sauce as it simmered on the stove was amazing, I kept coming back to taste it…and add salt. I'm not sure how much salt I ended up using (I kept adding a little more at a time) but just go by taste.
Since this uses all fresh tomatoes, it's a great way to use up your summer crop if you're growing a garden this year. And like I said, it's easy. Really. For real. It's one of those recipes that pretty much does it's own thing and fills your house with nice smells in the process.
Oh, and another cool thing about this recipe? It uses honey as the sweetener (I used raw honey). I kid you not, my jaw literally dropped to the floor when I saw how much sugar some of these homemade ketchup recipes use. It really doesn't need that much. Just a small amount of honey gave it a nice, sweet (but not too sweet!) flavor. Yum.
And for all you visual (and non visual) learners, we have a video for you today that will take you through the recipe step by step.
Happy ketchup making!
Sarah
Published on June 1, 2011