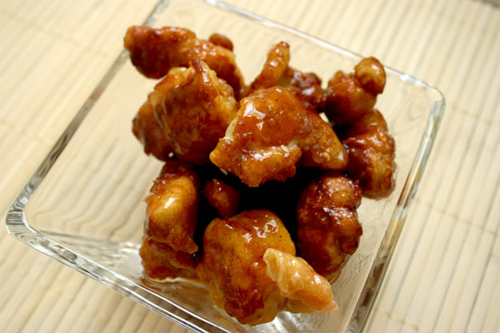 Homemade Gluten Free Orange Chicken Recipe
photo by recipe author
Servings: 4
Preparation Time: 30 minutes
Orange Sauce:
1 cup chicken stock
1 cup mild honey
1/2 cup fresh orange juice
1/2 cup rice wine vinegar
2 1/2 tablespoons gluten free tamari
2 tablespoons lemon juice
2 teaspoons fresh ginger, grated or minced
1/4 teaspoon garlic powder
pinch of red chili flakes
zest of one orange
zest of one lemon
3 tablespoons GMO-free corn starch, mixed with 2 tablespoons cold chicken stock or
cold water
Crispy Fried Chicken:
Instructions (Sauce)
1. In a medium sauce pan, combine all ingredients, except the corn starch and bring to a simmer over medium-high heat, while whisking regularly.
2. In a small bowl, stir the corn starch together with the chicken stock or water.
3. Slowly pour the corn starch mixture into the orange sauce, while whisking. Lower heat to medium-low and continue to stir. When the sauce thickens, reduce the heat to low or turn the burner off and let it stand.
Instructions (chicken)
1. In a large frying pan, heat 2-3 cups of coconut oil or palm shortening (or combination) over medium to medium-high heat. Once you start cooking the chicken, you may need to lower the heat to medium.
2. Cut chicken into bite sized peices and dry off.
3. Toss the chicken in a bag with the corn starch until they are completely coated.
4. In a bowl, whisk the eggs and buttermilk together. In a separate bowl, mix flour, sea salt, and pepper.
5. Remove 1/3 of the chicken from the bag and place them in the egg mixture. Coat each piece of egg and then place in the flour mixture. Coat each piece in the flour. Shake off any excess flour and place chicken in the hot oil, careful not to overcrowd the pan to ensure each piece gets crispy and golden.
6. Cook until chicken until golden brown and remove the chicken from the pan and repeat for the rest of the chicken pieces.
When you're ready to serve, you can serve the sauce on the site, or you can toss the chicken in the sauce until covered.
Recipe submitted by Jessica, Denver, CO
Published on June 22, 2012