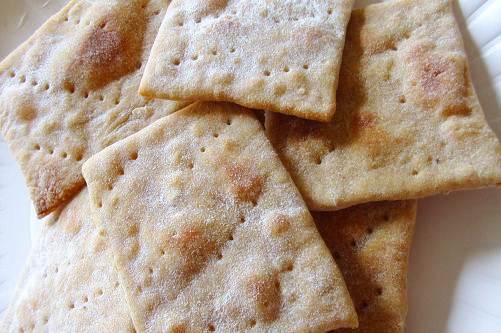 Homemade Matzah
Photo by recipe author
Servings: 6 cookie sheets full
Preparation Time: 20 minutes
Heat oven 375 degrees.
In a large mixing bowl, combine the oil, honey, salt, eggs, and water. Stir until well-mixed, then stir in 4 cups of flour. Mix then add more flour as needed and knead into a fairly stiff dough. Divide into 3 pieces.
On a lightly floured surface, roll each piece into a large rectangle. You can make your matzah as thin or as thick as you want; everyone likes it thick (about as thick as pie crust). Cut rolled dough into squares. (I used a knife, though a pizza cutter would be better if you have one.) Place squares onto baking sheets. Prick with a fork. Sprinkle with salt if desired.
Bake it:
For thin matzah, bake 10-11 minutes. For medium matzah, 13-14 minutes. For thick matzah, bake 15-20 minutes or until done. Matzah should be very lightly browned on top. Over-baked matzah will be hard and not very good, so be careful to not bake too long! Removed baked matzah from baking sheet and place on wire rack to cool, covered with a clean towel. Store in an airtight container or bag.
*I used about 1 cup of organic whole wheat flour in place of one cup of the all purpose, to make it a little healthier. I like it with the whole wheat better. I also used the flour I got from Tropical Traditions to make it! The best I've used!
Recipe submitted by Ra'chel, South Whitley, IN
Sarah's Notes: Since this is a bread recipe, you can play around with the whole wheat flour amount, using as much or as little as you want. Just keep in mind that the more whole wheat flour you use the more the water may have to be increased.
Published on April 26, 2010