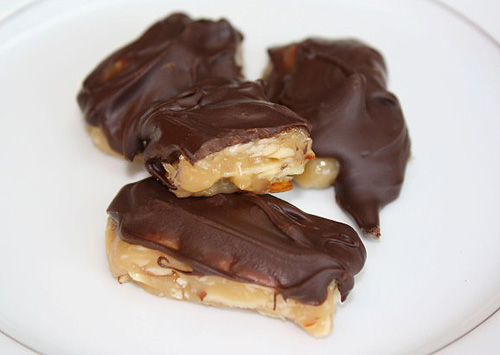 Honey Caramels with Chocolate, Almond and Coconut
Photo by recipe author
Servings: 16
Preparation Time: 3 minutes
Over medium-high heat in a saucepan, heat honey, cream, coconut cream concentrate, vanilla and salt.
Stir constantly using a whisk – mixture will bubble – you want it to bubble lightly – continue to stir until mixture reaches about 260 degrees on a candy thermometer.
Turn off heat and stir in almonds and coconut.
Grease 8×8 pan – pour in caramel mixture and allow to cool or put in refrigerator to cool faster.
Once cool, cut into desired shape and size and place on wax paper – melt chocolate and brush on top of caramels – allow chocolate to harden and they're ready to eat!
Recipe submitted by Ann, Omaha, NE
Published on November 23, 2009