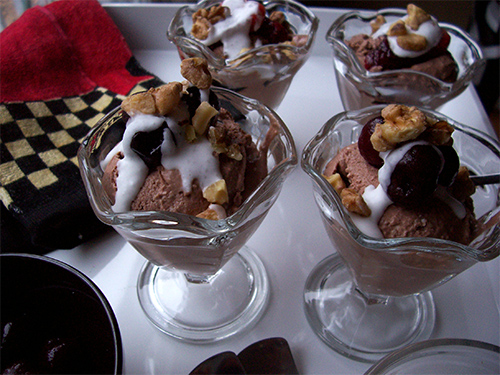 Iced Coconut Cream Dream Recipe
photo by recipe author
Servings: 4
Preparation Time: 15-20 minutes
1/2 cup cashews
3 tablespoons dark organic cocoa powder
2 bananas, sliced and frozen
3/4 cup coconut cream concentrate
2 tablespoons honey
8 ounces fresh or frozen strawberries slightly thawed; sliced OR whole cherries, fresh or frozen, slightly thawed.
1/2 cup walnuts, roughly chopped
Chocolate balsamic vinegar or hot fudge sauce
Coconut Cream Topping:
Put cashews in a food processor fitted with the metal blade. Process until fine. Add the cocoa powder, bananas, coconut cream, and honey. It may be necessary to let the bananas sit there for a few minutes to thaw slightly for ease of processing. Process until smooth.
Freeze mixture for 30 minutes or until firm enough to make nice scoops.
For the topping: place coconut cream with a little coconut water or filtered water into a blender. Blend until smooth and thick. Add vanilla extract and sweeten with stevia, to taste. Put in the freezer just until ready to serve.
Scoop ice cream into serving dishes. Top with sliced strawberries or whole cherries. Drizzle with balsamic vinegar or hot fudge sauce. Top off with a tablespoon of coconut cream topping and sprinkle with walnuts.
Recipe submitted by Charlene, Wareham, MA
Published on February 9, 2013