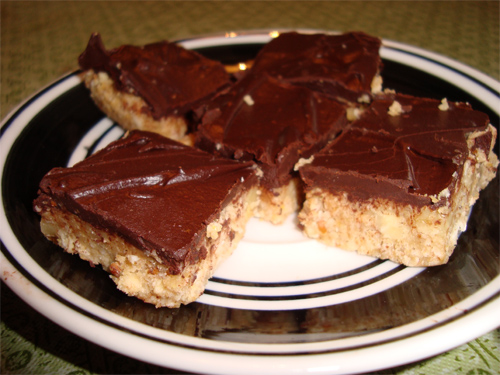 Chocolate Incredible No Bake Snack Bars Recipe
photo by recipe author
Bars can be stored in a container in the refrigerator for up to 2 weeks (although they don't last but a few days around my house!).
Servings: 9×12 pan
Preparation Time: 30 minutes
Bar Ingredients:
Chocolate Ganache Topping Ingredients:
For Snack Bars:
Pulse nuts and seed mixture in a food processor or coffee grinder. Place in bowl with the shredded coconut and mix together.
Melt coconut oil and nut butter over medium low heat. Stir until smooth. Add vanilla extract, honey, and salt, stirring until incorporated. Fold into nut mixture and mix thoroughly. Press into a 9 by 12 pan lined with either parchment paper or wax paper. Chill in the freezer for 20 minutes.
For Chocolate Ganache Topping:
Melt coconut oil. Add honey and stir until blended. Stir in cocoa until smooth. Add the coconut cream concentrate and stir. Quickly spread over cooled bars. Return to freezer for another 10 minutes.
Remove from freezer and using the wax paper/parchment paper, lift bars out of pan. Remove wax paper and place bars on cutting board. You can use a knife to cut into squares, but I have found that a pizza cutter works great!
Recipe submitted by Vicki, Pleasantville, TN
Published on May 6, 2013