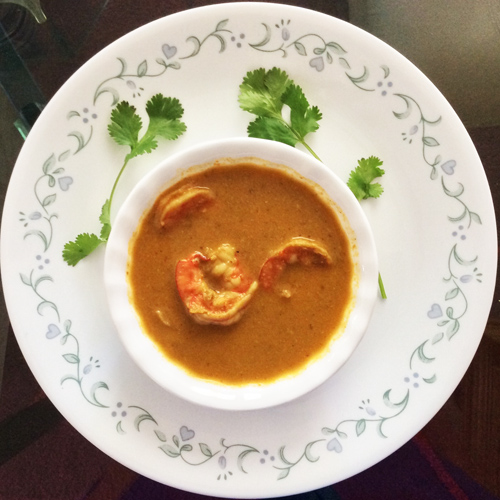 Indian Coconut Prawn Curry
photo by recipe author
Servings: 4
Preparation Time: 45 minutes
15-20 raw prawns, shelled and de-veined
1/4 teaspoon turmeric powder
1/2 teaspoon salt
2 tablespoons coconut oil
1 medium onion, sliced
3 garlic cloves, chopped
1/3 cup coconut flakes
2 teaspoons coriander seeds
1/2 teaspoon cayenne pepper
1 cup water
2 tablespoons coconut milk*
Place prawns in a bowl, add turmeric and 1/4 teaspoon salt. Mix well and set aside.
Heat one tablespoon coconut oil in a sauce pan. Add sliced onion and saute onions until they turn translucent. Add garlic and coconut flakes and saute till the coconut turns brown and the garlic is cooked. Turn off heat and let the mixture cool down.
In a blender, combine the prepared mixture, coriander seeds and cayenne pepper. Blend until a fine paste is formed. Add water while blending, if necessary.
In the same sauce pan, heat another tablespoon of coconut oil then add the above paste and saute it for a minute. Add remaining 1/4 teaspoon salt and 1 cup of water. When it comes to boil, add the prawns. Once the prawns are cooked, add coconut milk and stir well. Boil for a minute and turn off heat.
Serve hot coconut prawn curry over cooked rice.
*For the freshest coconut milk make homemade coconut milk. (See video at this link.)
Sheetal from Foster City, CA won $50 for this recipe and photo! Submit your coconut recipes and photo here!
Published on September 7, 2015