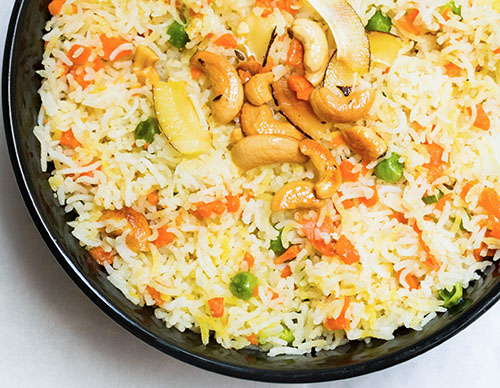 Indian Coconut Rice Pulao
photo by recipe author
Servings: 2
Preparation Time: 30 minutes
1 cup Basmati rice, or any long grain rice
2 cups coconut milk*
1 bay leaf
2 cloves
2 green cardamom pods
4 black peppercorns
1/2 teaspoon cumin seeds
1/2 knob ginger, finely grated or chopped
1.5 tablespoons olive oil or coconut oil
salt to taste
1 medium size carrot, peeled and finely chopped
1/4 cup fresh peas
1 tablespoon sliced cashews
1/2 tablespoon shredded coconut
Homemade Fresh Coconut Milk:
*For the freshest coconut milk make homemade coconut milk. (See video at this link.)
Wash and clean the basmati rice 2-3 times in filtered water then soak for 30 minutes.
Prepare coconut milk, set aside.
Drain the soaked rice and add it to a rice cooker with the prepared coconut milk. (You can also use a pressure cooker or pot on the stovetop to cook the rice.)
In a small pan, add olive oil or coconut oil. When the oil is hot, add bay leaf, cardamom pods, cloves, black peppercorns, and sauté on low heat until it releases the aroma.
Add the cumin seeds. When the seeds stop to sizzle, add the grated or chopped ginger and sauté for 2 minutes. Now add the chopped carrots and green peas. Sauté on medium heat for 3-4 minutes and then add this into the rice cooker.
Add water as required for the rice to cook. Cover the cooker with the lid and cook until done.
Meanwhile, in a small pan, add 2 teaspoons olive oil or coconut oil. Sauté the cashews and the shredded coconut for 2 minutes on low heat. Add this to the cooked rice. Combine well.
Serve coconut rice pulao with curry or green chutney.
Antara from Minneapolis, MI won $50 for this recipe and photo! Submit your recipes and photos here!
Published on September 19, 2016