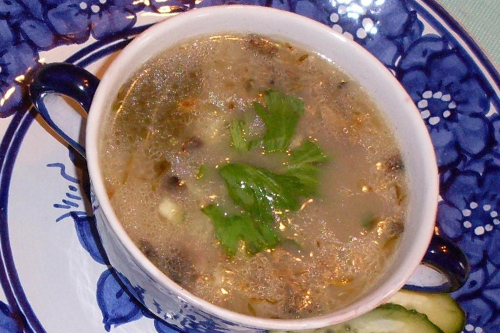 Intense Mushroom Coconut Soup Recipe
photo by recipe author
If you are serving to family, let them remove the 3 bay leaves as they find them in the soup. The flavors will be subtle and complex, with a predominance of mushroom, and a hint of coconut. This is on the permanent soup list for a meal at our house.
Servings: 3
Preparation Time: 30-40 minutes
4 cups boiling water
2 bouillon cubes: one vegetable and one chicken flavor (or fresh soup stock)
8 ounces chopped fresh mushrooms
3 tablespoons virgin coconut oil
1 medium onion, diced
2 tablespoons thyme
5 large cloves garlic, minced
1/4 cup white wine
1 1/2 cups coconut milk (*made from dried coconut for flavor)
1 teaspoon Himalayan salt (to taste)
2 teaspoons fresh grind black pepper (to taste)
2 tablespoons Thai fish sauce
Garnish chopped cucumber and celery leaves
Boil 4 cups water in a medium pot and add the bouillon cubes until they dissolve, or use stock.
While you are waiting for the water to boil and the cubes to dissolve, finely chop your mushrooms, then add them to the stock and set this aside for 20 minutes.
Sauté the chopped onion in the coconut oil in a heavy bottom soup pot for 6 minutes or until the onions are transparent and golden.
After 20 minutes, strain the mushrooms from the bouillon liquid and reserve the liquid. Add the strained mushrooms to the sautéed onions. Add the thyme. Sauté for another 6 minutes or until tender.
Add the bay leaves, minced garlic and white wine, heating for another minute.
For thickener: Take 1/2 cup of reserved broth (which has cooled a little by now) and put into a clean jar with 1/3 cup whole wheat flour (or a few tablespoons of corn starch for gluten free) and 2 tablespoons of Thai fish sauce. Put the lid on, and shake to mix.
Add the rest of the broth and the cup coconut milk to the mushroom mix, heat to simmer. Thicken by drizzling in the wheat and fish sauce mix from the jar, simmer and stir about 3 minutes until it thickens slightly. Salt and pepper to taste. Let the flavors blend for another 10 minutes if you can wait, remove the bay leaves, then heat and serve. Garnish with a mound of chopped cucumber and celery leaves if desired.
* For the freshest coconut milk make homemade coconut milk. (See video at this link.)
Recipe submitted by Karen, Fraser, MI
Published on March 11, 2013