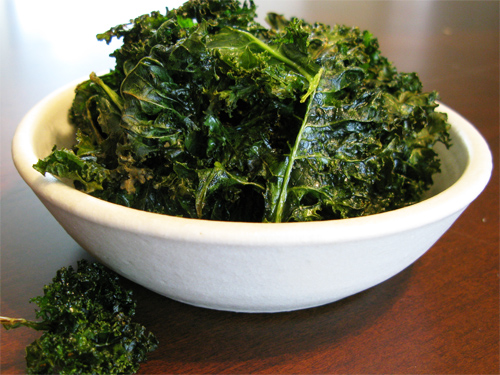 Kale Chips
photo by recipe author
Servings: 2
Preparation Time: 25 minutes
8 loosely packed cups kale, torn into 1″ to 1½" pieces, tough stems removed
2 tablespoons virgin coconut oil, melted and still warm
1/4 tsp salt, to taste
1. Preheat oven to 325F.
2. Rinse kale and dry thoroughly. Place in a plastic container or large bowl.
3. Poor warm oil over kale, close container lid, and shake to coat (alternatively, stir to coat in a bowl).
4. Spread out onto a large baking sheet. Sprinkle with salt (careful, it doesn't take much).
5. Bake for 20-22 minutes, until crispy. Enjoy!
Recipe submitted by Sarah, Marietta
Published on February 1, 2012