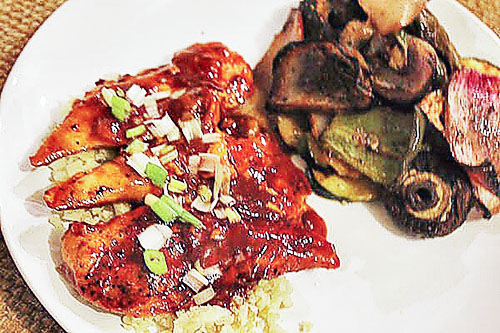 Korean BBQ Chicken Strips
photo by recipe author
Servings: 4
Preparation Time: 30 minutes
4 chicken breasts, cut into strips
2 tablespoons coconut oil
1 tablespoon sesame oil
1 tablespoon honey
1 teaspoon chili powder
1 tablespoon tomato paste
2 tablespoons organic fermented soy sauce
3 cloves garlic, minced
1″ slice fresh ginger, minced
salt & pepper, to taste
Heat oil in a large skillet. Add chicken breasts and season with a little salt, pepper and chili powder. Cook on each side for about 8 minutes or until cooked through.
Add in remaining ingredients and simmer over low-medium heat for about 10 minutes or until sauce has thickened.
Serve chicken with cauliflower rice and steamed vegetables.
Courtney from Weir, KS won $50 for this recipe and photo! Submit your recipes and photos here!
Published on February 1, 2017