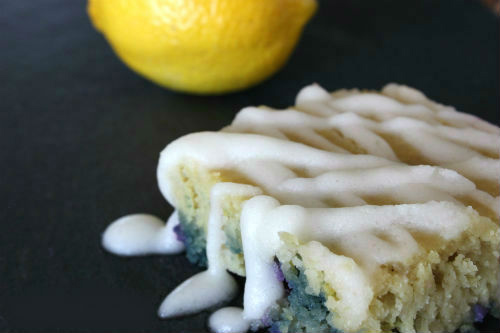 Lemon Blueberry Breakfast Bars Recipe
photo by recipe author
Servings: 8
1/2 cup coconut flour
1/4 cup almond flour*
1/3-1/2 cup sugar
1/4 teaspoon sea salt
1/2 teaspoon baking soda
3 pastured eggs
3/4 cup full fat coconut milk**
1 1/2 tablespoons fresh lemon juice
1 tablespoon lemon zest
1/2 cup fresh organic blueberries* (or more if you prefer)
Icing:
3/4 cup powdered sugar
4-5 tablespoons fresh lemon juice
1/8 cup non-dairy milk
Preheat oven to 350 degrees ºF.
Combine the flours, sugar, salt and soda in a bowl and set aside.
Beat the eggs, coconut milk and lemon juice in a large bowl.
Combine the flour with the wet ingredients and the zest and mix until all of the clumps are out. Fold in the blueberries.
Bake in preheated oven for about 30 minutes
For the icing:
Place all of the ingredients in a blender and combine. Drizzle over the bars once they have cooled.
Variations
Any berry or combination of berries would work in here. I would cut any berry besides blueberries into smaller pieces.
*You can grind your own almond flour by placing whole almonds in a blender/food processor and blending until you get a fine meal.
** For the freshest coconut milk make homemade coconut milk. (See video at this link.)
Recipe submitted by Kate, Highlands Ranch, CO
Published on July 8, 2013