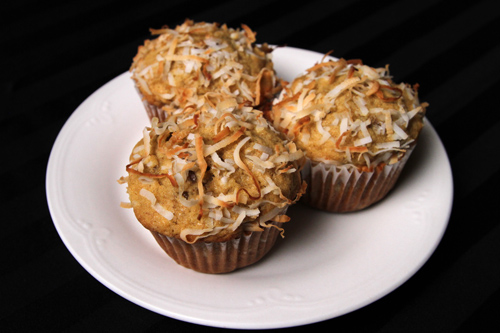 example photo shown
For the glaze:
1/2 cup whole organic sugar
1/4 cup lemon juice
3 tablespoons water
1 tablespoon lemon zest, finely grated
1. Pre-heat oven to 375 degrees. Line a muffin pan with paper muffin liners.
2. Mix flours, coconut and baking powder in a small bowl. Set aside.
3. Whisk coconut oil and sugar into a large bowl until well blended. Add egg and lemon zest, and beat well.
4. Add flour mixture in 3 parts, alternating with milk in 2 parts, stirring after each addition until just combined. Fill muffin cups 3/4 full.
5. Sprinkle tops with 4 tablespoons or more coconut. Bake for 15 to 20 minutes, until toothpick inserted in the center of muffin comes out clean.
6. While muffins are in the oven, prepare the glaze: Combine all 4 ingredients in a small saucepan. Heat on medium heat until boiling, and then reduce heat to medium-low. Cook, stirring occasionally, for 2 to 4 minutes until mixture begins to thicken. Remove from heat.
7. When muffins are finished cooking, place on a wire rack with some aluminum foil underneath to catch the drips. Carefully spoon glaze over hot muffins.
Makes 12 muffins
Recipe submitted by Gina, Saint Petersburg, FL
Published on April 30, 2008