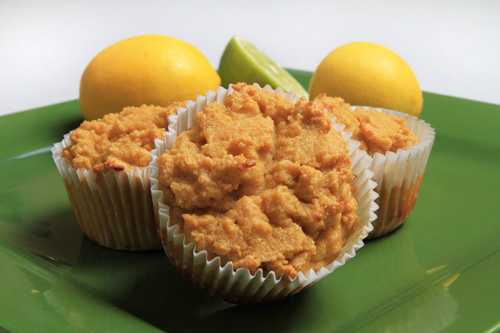 Gluten Free Lemon Lime Coconut Flour Muffins
Prepared by Marianita Shilhavy, Photo by Jeremiah Shilhavy
Servings: 9 muffins
Preparation Time: 15 minutes
Procedure:
Pre-heat oven at 350 degrees F.
Mix coconut flour and baking powder, and then set aside.
In a mixing bowl, beat the eggs and gradually add sugar, milk, butter,
coconut oil, lemon juice, lime juice, lemon zest, lime zest, and salt. Beat
until well blended.
Gradually add the coconut flour with baking powder to egg mixture. Blend
well. Spoon batter into 8 muffin tins lined with paper liners.
Bake at 350 degrees F for 20 minutes or until toothpick inserted into center
comes out clean.
*If using salted butter salt is not needed.
Recipe by Marianita Shilhavy
Published on December 29, 2009