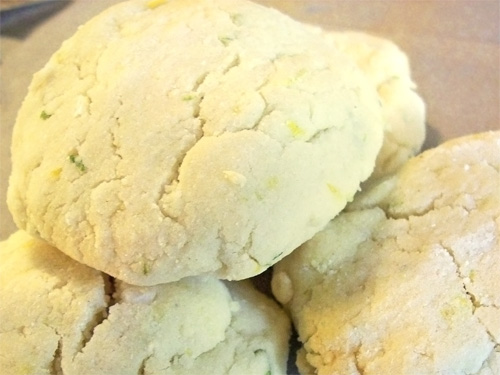 Lime in the Coconut Flour Gluten Free Cookies
Photo by recipe author
Servings: 30
Preparation Time: 15 minutes
1 cup coconut flour
3/4 cup rice flour
1/2 teaspoon baking soda
1/2 teaspoon baking powder
1/4 teaspoon salt
2/3 cup whole sugar
2/3 cup softened butter or palm shortening
2 eggs
1/2 tablespoon grated lemon peel
1 tablespoon grated lime peel
2 tablespoons fresh lemon juice
3 tablespoons fresh lime juice
1 tablespoon water
Pre-heat oven at 375 degrees F.
Mix coconut flour, rice flour, baking soda, baking powder and salt together.
In a large mixing bowl beat the sugar, butter or shortening, eggs, lemon and lime peels, lemon and lime juices and water. Mix in flour mixture until well blended.
Shape dough into small balls with your hands and place on an un-greased cookie sheet. They don't spread too much.
Bake 10-12 minutes or until set. Immediately remove from cookie sheet and cool on a wire rack.
Recipe submitted by Sarah, Oshawa, Canada
Published on December 4, 2009